Juva Cleanse Vitality – 5ml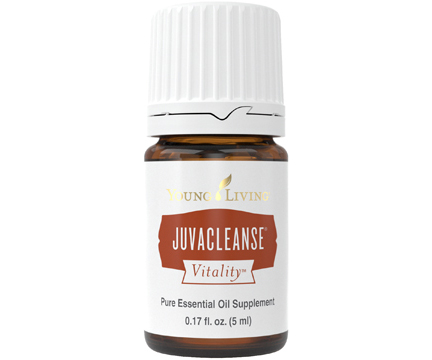 JuvaCleanse® Vitality™ essential oil belongs to Young Living's Juva line and is designed to be taken as a supplement along with a diet of fiber-rich foods. Combining Helichrysum, Ledum, and Celery Seed essential oils, JuvaCleanse Vitality complements other Juva products, including JuvaFlex®, JuvaPower®, JuvaSpice®, JuvaTone®.
JuvaCleanse Vitality is formulated to have cleansing properties, to help support digestion, and to support a healthy immune system. With so many JuvaCleanse benefits, JuvaCleanse Vitality is a great addition to your daily dietary supplements.*
JuvaCleanse Vitality Essential Oil Uses:
Add 1–2 drops of JuvaCleanse Vitality to a glass of water in the morning or after any meal to enjoy its cleansing benefits.*
Take it daily as a dietary supplement to support wellness and a healthy lifestyle.*
Add 1–2 drops to a smoothie or green drink for digestive support any time of the day.*
Take it with JuvaTone twice a day between meals for powerful antioxidant benefits.*
*These statements have not been evaluated by the Food and Drug Administration. This product is not intended to diagnose, treat, cure, or prevent any disease.
Retail Price: $68.75
Wholesale Price: $52.25
---
---
How to Use
Dilute 1 drop with 4 drops of carrier oil. Put in a capsule and take 1 daily or as needed.
---
---